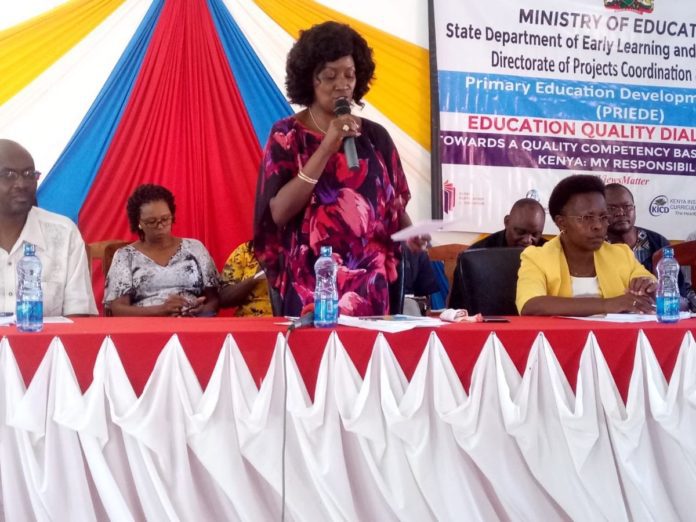 The Teachers Service commission, TSC, has effected the promotions for 1,000 primary school teachers and posted them to secondary schools. This is good news for the teachers who had attained higher qualifications but still plying their trade at primary level. "I am pleased to inform you that your application for Appointment as a Secondary school Teacher II (T-scale 7) has been successful.." reads the appointment letter dispatched to one of the teachers. The promoted teachers will have to report to their new stations between January 6, 2020 and January 20, 2020 after officially clearing from their current stations. To be considered for these promotions, one had to meet the following basic requirements:
Be Kenyan Citizens;
PI Certificate;
Bachelor's Degree in Education with 2 teaching subjects;
Must have minimum mean grade C+ (Plus) at Kenya Certificate of Secondary Education (KCSE) or its equivalent and minimum C+ (Plus) in the two teaching subjects.
Must be employees of the Teachers Service Commission (TSC).
Also read;
For all details about other schools in Kenya, please visit the link below;
New salaries and allowances.
According to the Commission, interested candidates under this category were required to submit their applications to the Secretary Teachers Service Commission through the online platform www.teachersonline.tsc.go.ke; not later than 30th August, 2019. Those Successful have now been appointed at T-Scale 7 (Grade C2) and posted to secondary schools where vacancies (in their subject combinations) existed. The good news to these teachers is that the new grades come with increased perks as they will earn between Sh34,955 and Sh43,694 per month. "Your allowances will be paid in accordance to your new grade and station," adds the appointment letter. The appointment letters were written December 30, 2019 and dispatched to Counties for onward transmission to the teachers. The posting of the one thousand teachers to secondary schools will try to bridge the staff shortages; which has been worsened by influx on form ones under the government's 100% transition policy. SPONSORED LINKS; YOUR GUIDE TO HIGHER EDUCATIONFor a complete guide to all universities and Colleges in the country (including their courses, requirements, contacts, portals, fees, admission lists and letters) visit the following, sponsored link:
Universities and Colleges News Portal
Free Teaching Resources and Revision Materials