A marriage certificate is a legal document that you are going to use when you need to prove that your marriage has been legally recognized by your State and, by extension, the local authorities.
For you to obtain a marriage certificate, you need to get married first before you proceed to the office of the Registrar of Marriages to file the Certificate of Marriage.
There are three legal ways to get married in Kenya:
A traditional customary union.
A religious wedding.
A civil wedding
What's the importance of Marriage Certificate
1. The certificate gives you the eligibility to inherit your spouse's property and also jointly own properties without fear of being denied the right to share the matrimonial property when your spouse dies.
2. The certificate enables your spouse joining your health benefits.
3. The certificate is needed when applying for a foreign visa where one of the couple is working in a foreign country
4. The certificate is equally needed when applying for a passport and/or some other such document, which contains the name of one's spouse.
5. It will be very handy if you have to prove that you are a legally married couple in front of any authority.
6. The certificate is needed for spouses to file joint taxes and receive tax breaks.
7. If you plan on buying a house and need to apply for a mortgage loan, many lenders will ask for a marriage certificate. This is so lenders can check your credit history jointly and separately.
8. A marriage certificate can also help you migrate with your family to any country without any restrictions.
9. If the wife changes her second name and adopts the husband's, all her old documents are in her maiden name. The marriage certificate will bind them to her as it will show both her maiden name and the newly adopted name.
Marriage Certificate Application
Application for Marriage Certificate should be completed online.
After completion, please download, print and sign the application before mailing it to the Kenyan Consulate in Los Angeles.
Applications which are not filled online will be returned unprocessed.
After reading the Requirements below, please follow the "Continue with Online Application" link to complete the online application form.
To obtain a copy of marriage certificates a search form must be completed and returned to the Kenyan Consulate in Los Angeles together with a fee of US $50 Money order or cashiers check Payable to CONSULATE GENERAL OF KENYA LOS ANGELES (Do not staple check/money order onto document).
Requirements for non-Kenyans wishing to conduct a marriage ceremony in Kenya.
Non-Kenyan parties wishing to conduct a marriage ceremony in Kenya are required to produce the following documents:
Birth certificates
Valid passports
Decree Absolutes (if divorced)
Death certificate (if widowed)
Separate Statutory Declarations sworn at a Solicitor's/Notary Public's office, stating the fact that one is single and free to marry. This should bear the solicitor's signature and official stamp.
Parental consent in form of legal document for persons below twenty-one (21) years of age.
Residency in the country for twenty-one days. If this is not possible, a Special License could be obtained beforehand by contacting the Registrar's Office in Kenya.
The contact address for the Registrar's Offices in Nairobi is:
The Registrar of Marriages, Department of the
Registrar General
PO Box 30031
Nairobi, Kenya
Tel: 00254 2 227461
Fax: 00254 2 215651
NB: Any incomplete application will be returned.
To avoid delays in processing your application please ensure that you have read all the requirements above.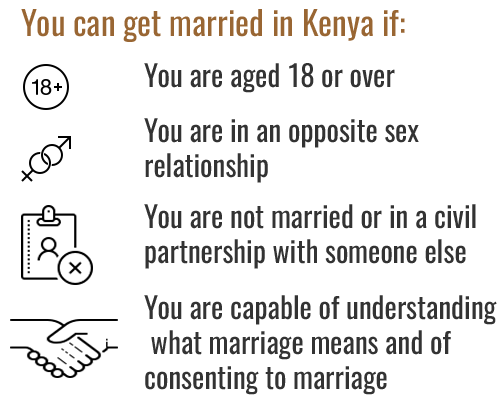 Application for a Certified Copy of a Marriage Certificate
This is a certificate issued by the Registrar to certify and verify that a marriage certificate is registered under Civil, Christian, Hindu or Customary Marriage, confirming that the marriage record exists.
Requirements:
Fill the online application form
Indicate:
System of marriage
Names of the parties to the marriage
Date of the marriage
Place of marriage
Upon a successful search, the applicant will be notified to pay a fee of Kshs 1,100/= on the online platform
Time frame – 4 days after payment
How much does marriage certificate cost in Kenya?
How much does it cost to get a Kenyan Marriage Certificate? Fee, of Ksh 3,900 is charged for the whole process. A fee of Ksh 9,700 is charged if the wedding is being conducted in the Registrar's office and Ksh 16,700 if the wedding will take place in a garden.
How can I get married online in Kenya?
On eCitizen, the new option is under the Office of the Attorney General. They offer 5 services to people seeking marriage services: Registration of Marriage, Licensing of Ministers of Faith, Certificate of No Impediment to Marriage, Application of a Certified Copy, and Issuance of Marriage Books.
How long does it take to get a marriage certificate in Kenya?
7 days, All marriage certificates are certified centrally at the Nairobi office before being transmitted to the ministry of foreign affairs for authentication. The cost of a certified copy is Kshs. 1,100 and it takes 7 days to process.